William Eaton, Web Design and development in PHP and Drupal
A Quick Note
Welcome to the website of William Eaton, born in Staffordshire, United Kingdom and studied Computer Science & e-Business in Loughborough University, Leicestershire. After having completed a 4 year degree in Computer Science & e-Business earning a 2:1 level I have returned to Spain where I originally completed a placement year with Andalucia Web Solutions. While I am working full time during the day for Andalucia Web Solutions, I am also working for myself in my spare time. Through university and my work with AWS I have managed to gain a wide variety of skills and technical knowledge some of which can be found on the page About Me. I have reached a very high standard in PHP/MySQL and HTML and am completely capable of designing and building a bespoke system following well documented and established project management aproaches.
Please feel free to enquire about my services
If you wish to view some of the work that I have done in the past then please feel free to peruse my Portfolio. Through work, University, and in my spare time, I have created a lot of websites, solutions, and scripts for clients, some of which you can now browse.The most recent projects that I have been working on have been on Drupal Websites. Some of the other systems and projects that I have completed include many Property Database Systems which allow a non technical user to manage their website content from anywhere with an Internet connection.
There have also been some interesting small project such as my PHP HTML Parser which regretably is not available for demonstration however is something that you can read about and even request the usage of.
For my Final Year Project at Loughborough University, I created a Web Trends System which allows a web site owner to track where users are going on their website and specifically identify which users are buying your product and exactly who referred them. It also allows the website owner to find out where and if there is a problem with your product/website, for example 70% of people leave your website on your price list page.
Please feel free to enquire about my services or go to my Portfolio now...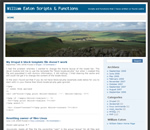 These are some of the scripts and functions that I have found useful over the years. They include PHP, MySQL and Javascript codes that I found useful and hopefully will benefit other people too. Please feel free to add to the list.